31 China Airlines flights aborted, hundreds of SG passengers stranded due to pilots' refusal to fly
How's it like working in a café? Apply now and experience it!
Home cleaning service - Refresh your life now!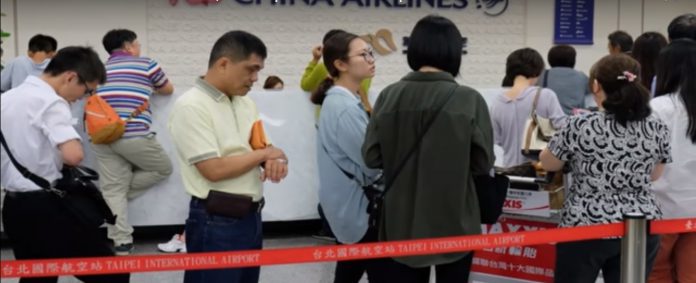 Photo: YouTube screengrab
Thousands of China Airlines' (CAL) passengers went crazy over the recent cancellation of about 31 flights brought by the pilots' strike on the issue of long working hours and related job conditions.
Two of these flights involved passengers from Singapore going to Surabaya and vice versa.
As cited on CAL's website, as early as 6 am on Feb. 8 (Friday), the strike already started. With the pilots' work stoppage, this caused Taiwan's main carrier to postpone six other flights during that day.
The cancelled Singapore flights were CI751, supposedly bound for Surabaya on Feb. 9, and CI752, which was set to have a return flight and scheduled for Feb. 10.
The initiated strike by the Pilots Union Taoyuan was expected to meet with CAL management on Feb. 9. The mediator was Taiwan's Ministry of Transportation and Communications, as reported by the Central News Agency (CNA).
About 900 members of the union, represented by 70% of CAL pilots, had unanimously decided in August 2018 that they would call for a strike to air their demands to reduce their working hours, ensure transparency in the airline's promotion system and provide necessary training for their co-pilots, based on the earlier reports.
Both had a preliminary agreement regarding the consultation on the prevailing issues to be settled within the year. But unexpectedly, the union pursued the strike early this month in line with the resurgence of continuing labour disputes and discussions on the issues seemed irreconcilable.
Initial reports claimed Taoyuan Pilot's Union members noted over 10% of those currently part of the strike surrendered their flight licenses to show their refusal to fly during the strike. In an open letter provided by the pilots, they gave an apology to those affected passengers for executing a strike but stressed this was vital to ensure the passengers' safety.
Pilots seek the airline to provide them with longer rest hours. Currently, they are being forced to work overtime, impacting their overall performance and putting themselves and the passengers' welfare at risk.
Pilots also claimed the airline is understaffed. They cited previous instances that some pilots passed out while on duty caused by too much exhaustion.
The pilots collectively call to have four pilots on board during flights that last for over 12 hours instead of three pilots, which is currently practised. Three pilots should be tasked to handle flights over eight hours compared to the existing two pilots available to man such flights.
Also, pilots demand being safeguarded and be freely allowed to unionize. In the previous events, union representatives were on the watch list of the airline and the company tagged the union members as either 'greedy' and executing a strike to earn more money.
Aircraft Airline Protest News Singapore