Human rights activist rebukes M'sian Youth Minister for hosting Zakir Naik, telling country to move on
The most convenient way to buy movie tickets! Try here!
Looking for professional and affordable room painting? Here it is!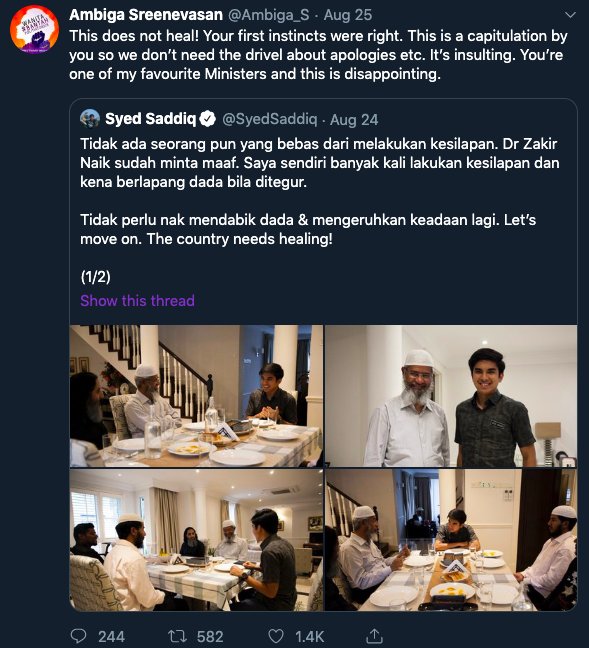 Kuala Lumpur—Prominent human rights activist and lawyer rebuked Malaysia's Youth and Sports Minister Syed Saddiq Syed Abdul Rahman over social media for the minister's "capitulation" regarding controversial Indian preacher Dr Zakir Naik.
The Youth Minister had, like several other prominent figures, originally called for the deportation of Dr Zakir, whose remarks earlier this month caused controversy when he said that Hindus in Malaysia are more loyal to Narendra Modi, the Prime Minister of India, than they are to Dr Tun Mahathir Mohamad, Malaysia's Prime Minister. He also referred to the country's Malaysian Chinese as its "new guests."
Police launched an investigation when the public filed 115 reports with the police over Dr Zakir's comments, as well as temporarily banned all of his public speaking, including in online venues, on August 15.
The Muslim preacher issued an apology on his Facebook page on August 20, claiming he had never intended to cause outrage with his words. He also emphasized that he is not a racist, but that those against him had taken his statements out of context and that they added "strange fabrications into" his remarks.
While last week Mr Syed Saddiq joined the call for Dr Zakir to be deported to India, where he is charged with money laundering and acts related to terrorism, on August 24 the Youth Minister said that it was time for Malaysians to move on, and stop fixating on the remarks Dr Zakir made earlier.
Mr Syed Saddiq posted photos of himself hosting the controversial preacher and some other guests at a meal, with the caption "Tidak ada seorang pun yang bebas dari melakukan kesilapan. Dr Zakir Naik sudah minta maaf. Saya sendiri banyak kali lakukan kesilapan dan kena berlapang dada bila ditegur.
Tidak perlu nak mendabik dada & mengeruhkan keadaan lagi.
(No one is free from mistakes. Dr Zakir Naik is sorry. I made a lot of mistakes myself and got beat up when I was reprimanded.No need to slap on your chest & make things worse.)
Let's move on. The country needs healing!"
Followed by "Malaysia merupakan negara yang berbilang bangsa & agama. Moderation over extremism. Kesatuan kita, adalah kekuatan kita. Setiap bangsa, ada sumbangannya yang tersendiri. Mereka merupakan rakyat Malaysia, sama seperti saya. (Malaysia is a multi-ethnic & religious country. Moderation over extremism. Our unity, is our strength. Every nation has its own contribution. They are Malaysians, just like me.) Unity in diversity. Stronger, together, forever."
The human rights lawyer Ambiga Sreenevasan tweeted back, "This does not heal! Your first instincts were right. This is a capitulation by you so we don't need the drivel about apologies etc. It's insulting. You're one of my favourite Ministers and this is disappointing."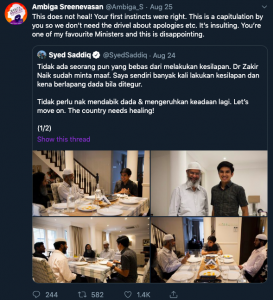 PM Mahathir has said that he will not deport Dr Zakir, and nor will he have his permanent residence status withdrawn.
In his apology last week, Dr Zakir said, "Even though I have clarified myself, I feel I owe an apology to everyone who feels hurt because of this misunderstanding. I do not want any of you to harbour ill feelings towards me.
It was never my intention to upset any individual or community. It is against the basic tenets of Islam, and I would like to convey my heartfelt apologies for this misunderstanding, " he said in a statement yesterday.
As you must have noticed for the past few days, I am being accused of causing racial discord in the country and my detractors have been using selective sentences taken out of context and adding strange fabrications into them."/ TISG
Read related: Minister hosts dinner with Zakir Naik after calling for his deportation
Minister hosts dinner with Zakir Naik after calling for his deportation
Government SE Asia Politics