Food demand to shift to groceries, residential outlets and online delivery platforms
Durex: less worry, more happy
Eu Yan Sang is hiring! Enjoy rich benefits and a good working environment!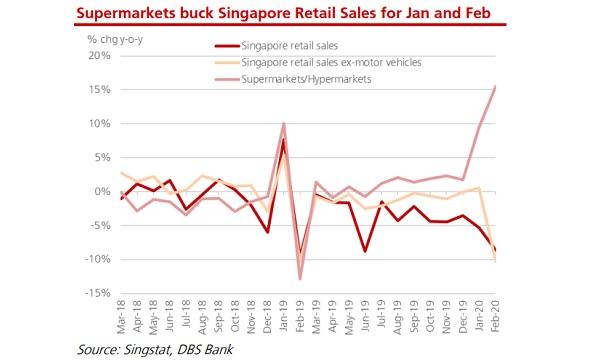 Outlets dedicated to dine-in customers will face challenges.
With more of the population staying home for the next month, Singapore could see a shift in food consumption patterns to benefit grocery retailers, food and beverage (F&B) outlets near residential areas, and online channels, according to a DBS Group Research report.
Essential service supermarkets, wet markets, hawker centres and food establishments will continue operating as the government implemented stricter measures to curb the spread of the pandemic.
For F&B outlets, only takeaway and food delivery services will be allowed. With this, higher end restaurants will continue to be affected during this period where they can only be open for takeaway or delivery services.
Further, the retail scene could see stronger supermarkets sales and lower discretionary spending amidst stricter crowd control. With the closure of non-essential services, April's retail sales could be even more skewed towards supermarkets and low-priced food establishments.
Amongst F&B companies, those with online presence and lower end selection like hawker centres, coffee shops and food courts are tipped to see bigger demand. However, with dining in disallowed, sales of outlets dedicated to dine-in customers especially restaurants and pubs are facing challenges.
With a robust food delivery system, demand for large fast food players could keep strong, whilst that for kiosks would largely depend on location. For instance, without online presence, snack chain Old Chang Kee's sales would be limited to the heartlands or suburban areas.
The government implemented stricter measures to combat the spread of COVID-19, with most workplaces closed from 7 April to 4 May. Only companies operating essential services and businesses which can operate remotely will not face suspension.
Meanwhile, retail sales saw the sharpest drop at over 10% in January and February, attributed to shoppers staying away from crowds and lower tourist arrivals. Luxury items and department store sales crashed 24% and 36% YoY, respectively. 
Food & Beverage Singapore Business Finance