Halimah Yacob, Tan Chuan-Jin, Edwin Tong test positive for COVID-19, Netizens say 'Welcome to the club!'
Why use cash when you can save and earn by using Nestia wallet!
Solve your skin aging problem with J'sDerma serum!
The coronavirus responsible for the current pandemic is no respecter of persons, as we all know by now. This week, President Halimah Yacob, House Speaker Tan Chuan-Jin, and Minister for Culture, Community, and Youth Edwin Tong are all down with Covid infections, just like nearly 550 million people around the globe.
As some netizens told them over social media, "Welcome to the club." The President, 67, was the first to announce over social media that she caught Covid, describing her symptoms to be "mild flu-like" ones in a Facebook post at midday on Monday (July 4).
"Just tested positive for COVID-19 with mild flu-like symptoms. Thankfully, I have been vaccinated and boosted. I hope to recover soon and am sorry to have to miss the events this week," she wrote.

An hour later, Mr Tan, 53, let the public know over all his social media channels that he had been checked before the session in Parliament and tested positive for Covid, posting a photo of a rapid test with two lines.
"Checked b4 Parliament sitting today and unfortunately would not be able to be part of these two days sitting. Take care everyone!!," he tweeted.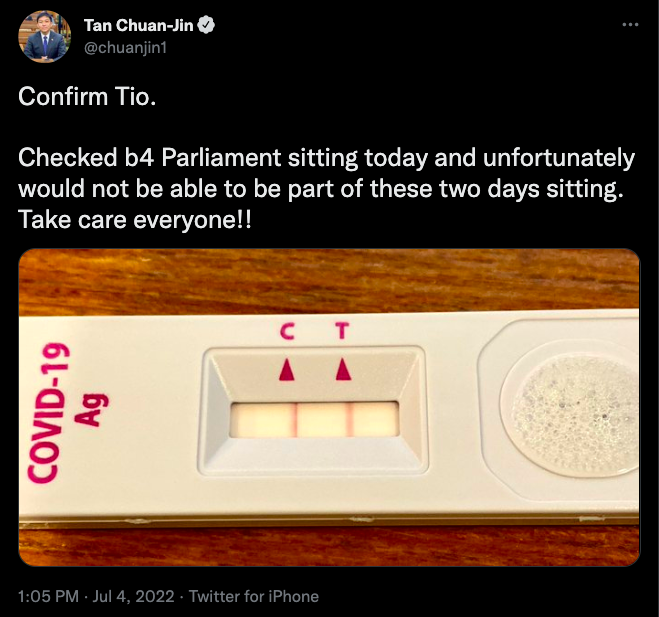 His Facebook post was a little lengthier, where he thanked Deputy Speakers Christopher de Souza and Jessica Tan Soon Neo for "holding the fort" in his absence.
The Speaker said he had "felt a little flu-ish, tested negative, and felt that I was on the mend" and expressed the hope that his "symptoms would be mild."
"All good things must come to an end. My COVID-free days are over," he wrote.
In a comment to his own Facebook post on Tuesday (July 5), Mr Tan wrote that he had a slight cough and slightly congested airways, which he called "So far, so good."
Mr Tan, who frequently posts the fitness activities he does, also wrote that he has body aches, but added "I often wonder if it's from the exercises and running!!"
During Monday's Parliament sitting, it was announced that Mr Tong, 52, also had Covid. The Straits Times reported that Mr Alvin Tan, the Minister of State for Culture, Community and Youth, asked that some of the questions that Mr Tong needs to address be deferred to a later date.
Netizens commenting on the Speaker's post wished him a speedy recovery, with some sharing their own experiences of falling ill with Covid.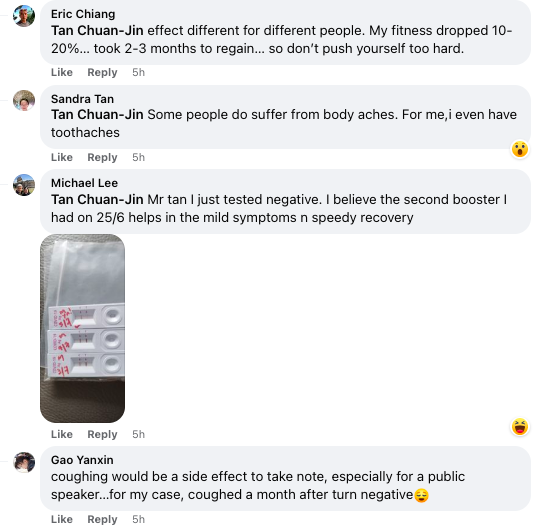 Some even told him, "Welcome to the club."


On the President's post, Mr Tan was one of the first to wish her well.

She was also welcomed to the Covid 'club'.
/TISG
Ong Ye Kung says next COVID wave is here, possibly due to holiday travel
Follow us on Social Media




Send in your scoops to news@theindependent.sg 
Singapore Politics Finance