Hong Kong protests' disruption spawns group commute by bicycle – 'It's a green solution, and sociable'
Want to study for an MBA? First understand these
Awesome promotion deals for foodies!
Hongkonger who launched social cycling group in London seizes on Hong Kong transport chaos caused by anti-government protests to begin group commutes by bike
Anthony Lau's 'bike train' runs from Tsim Sha Tsui to Tsuen Wan, and cyclists join and leave along the route. Riders enjoy the workout and the chance to chat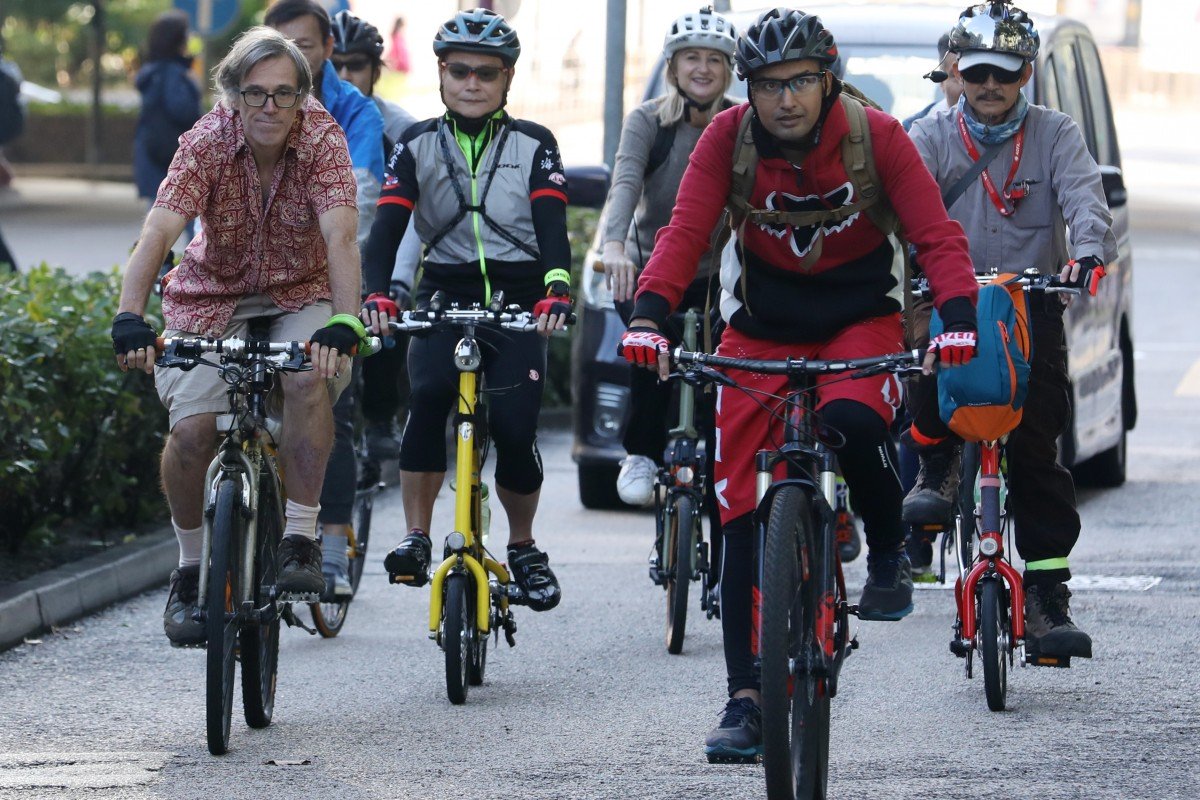 It's 7.25am on a crisp December morning and I'm near the Star Ferry in Kowloon, with a borrowed bicycle. I'm here to check out the "bike train" – a group cycle commute from Tsim Sha Tsui to Tsuen Wan, about 15km and pretty much the length of the Tsuen Wan MTR line.
My fellow bike train commuters on the 15km journey are easy to spot – they arrive on bikes, some with helmets and some without – and they are a friendly bunch. One notices that my bicycle seat is tilted and offers to adjust it.
It's been 10 years since I rode a bicycle and I've never ridden in Hong Kong's city traffic, but they do say you never forget how to ride a bike and I've been promised the route is mostly flat. What's more, I've been lent a gorgeous khaki green Brompton, a lightweight folding bike.
The brains behind this newly launched initiative, Anthony Lau, is easy to spot. He's got a big red flag attached to the back of his bike, promoting the route, which they cycle on Mondays, Wednesdays and Fridays.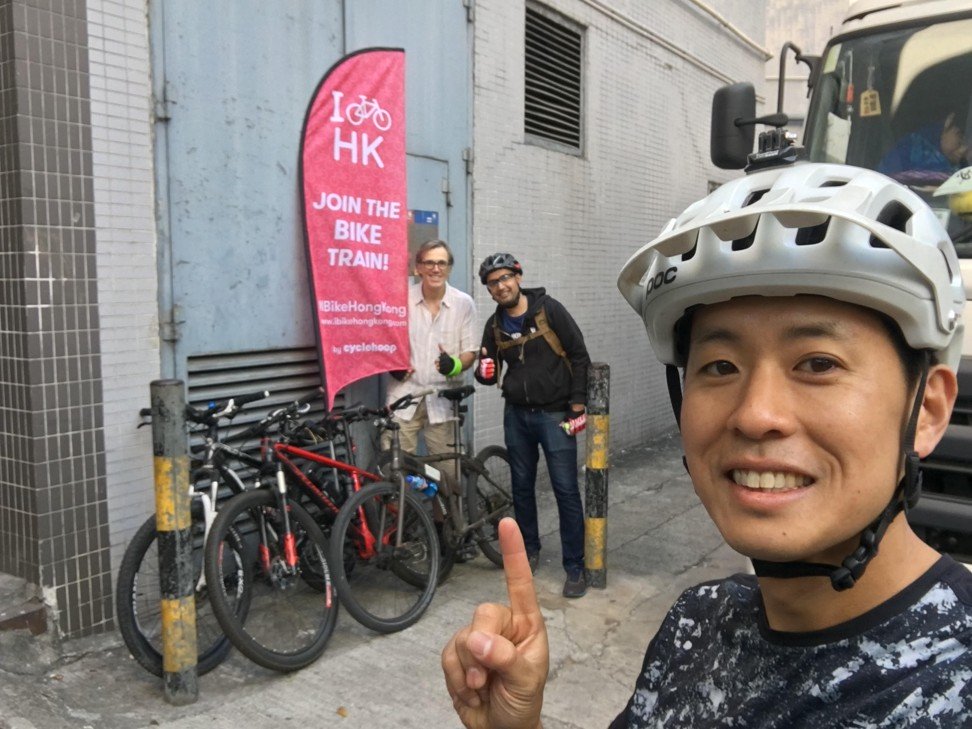 "For me, cycling is about the freedom to use the road, explore the city and interact with people. There's a social level to it, it's about mobility and equality and inclusiveness, regardless of age and sex," says Lau, who studied at King George V School in Ho Man Tin, Kowloon, before moving to Britain to do a degree in architecture at Nottingham University, then founding a cycling infrastructure company, Cyclehoop, in London.
There are 11 of us on this "bike train", which Lau launched in November and which departs from the clock tower in
Tsim Sha Tsui
at 7.45am. It's a predominantly male group, but there's a wide age range – from people in their 20s to their 50s – and a mix of nationalities, including Chinese, Indian, French and English.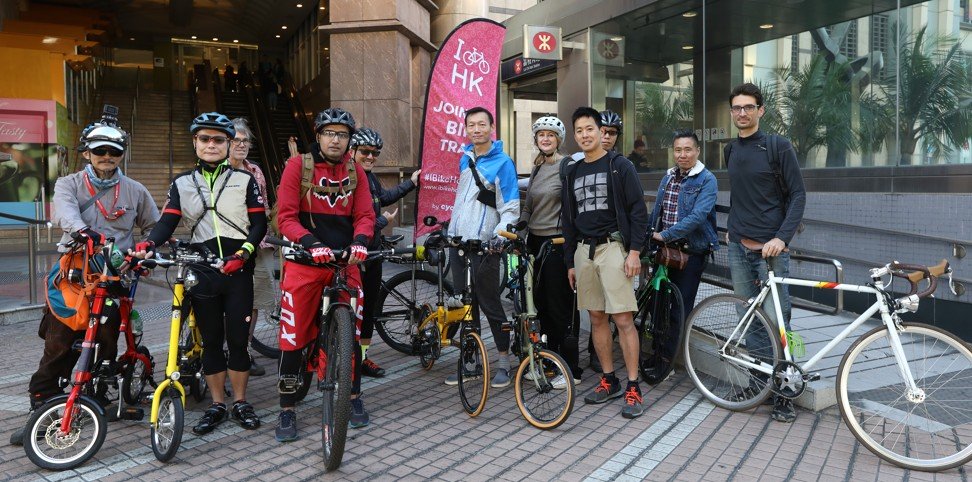 As we make our way up
Nathan Road
, the main north-south artery on the Kowloon peninsula, I'm relieved to see that there isn't much Lycra on display. This is a casual cycle commute, intended for people going to work, and we travel at a pace that is comfortable enough to chat.
Vishal Manwani, 33, found out about the bike train on Facebook and he is joining for the second time, taking the "train" from its starting point to his office in Kwai Chung. A keen cyclist, he previously has only cycled in Hong Kong's hills and in remote areas, and says this is the first time he's biked in an urban environment.
Advertisement
"It feels safer riding in a group. I felt a bit nervous as an individual cyclist on the road. Drivers don't really give you the space and try and edge you to the curb, it's a bit dangerous," says Manwani, who changes clothes when he gets to the office.
In Hong Kong, the focus is going to be on getting people to commute first and then we might think about setting up fun rides to explore the city Organiser of the 'bike train', Anthony Lau
His job is sedentary, so cycling to and from work a few times a week gives him the workout he wouldn't otherwise have time for. And it's a bonus that his boss supports his new style of commuting.
The beauty of the "bike train" is that you can join and leave where you want – just like a regular train. Some participants peel off when they get to their workplace, others join part way through. A link on the I Bike Hong Kong website allows cyclists to follow the train's progress.
Not everyone on today's train is going to the office.
Martin Turner
, chairman of the Hong Kong Cycling Alliance, has joined to support the new initiative.
"I cycle as my normal way of getting around town on Hong Kong Island and Kowloon. It's the most efficient, comfortable and enjoyable way to be part of Hong Kong, and to be able to travel quickly and easily. It's healthy, cheap and good for the environment," says Turner, who also joins a monthly group cycle ride in the city, Critical Mass.
A highlight of the "bike train" is a mid-journey stop for a breakfast bun at Door Door Bakery in
Mei Foo
. Judging by the friendly expressions of the staff, the hungry cyclists who load up on carbs are welcome.
With the bikes propped up against the side of the bakery, it's a chance to catch up with Lau. He grew up in Hong Kong and got his first taste of cycling on days out to
Tai Po
and Tai Wai in the rural New Territories, which he says gave him a sense of freedom.
He started cycling in London when he moved there for work and found it a great way of getting around a busy city, and an alternative to the crowded London Underground subway network.
"When my bike was stolen, it inspired me to design a better bike rack. I won a competition and started working with the [local government] designing bike solutions," says Lau.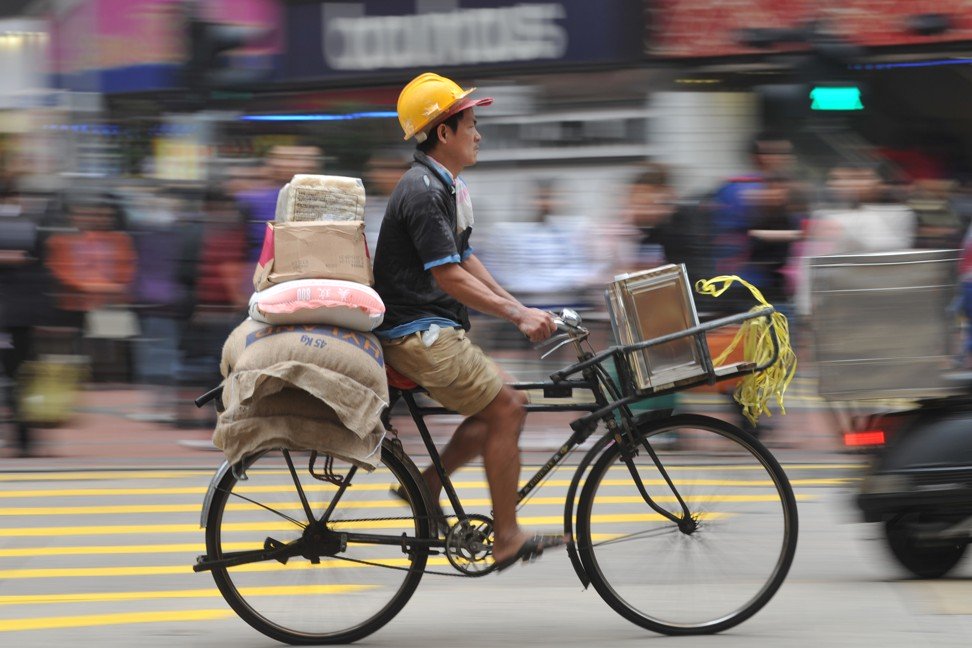 With the success of his business, Cyclehoop, he wanted to give back and created I Bike London in 2012. Londoners were already using bicycles to commute to work, so the focus was on creating a social environment and encouraging people to get out and explore London on a bike.
The group organises regular themed rides and attracts hundreds of cyclists. Lau recently returned to Hong Kong, and when he saw the traffic disruption caused by anti-government protests that began in the summer, he decided it was a good time to launch I Bike in the city.
"In Hong Kong, the focus is going to be on getting people to commute first and then we might think about setting up fun rides to explore the city. Cycling was growing in Hong Kong a few years ago, but it has stagnated and we want to kick-start it again," he says.
Philip Heung, founder of Green Urban Mobility, a bicycle shop in
San Po Kong
, East Kowloon, is a regular on the "bike train" and says the golden period for cycling in Hong Kong was the five years from 2008, when folding bikes took off in Hong Kong.
"It's great to have people riding on all kinds of bikes. For commuting, you need a bike that is suitable for the urban environment. A foldable bike, like a
Brompton
or a
Strida
, will allow you to take it on the train, store it at home or the office – it fits with urban life," says Heung.
It's not only a green solution, it's also very sociable. When you cycle with a group you are happier, it's fun, and you can see even drivers and people on the streets are smiling at you Cyclist Chris Szeto
At its peak, he was selling 1,600 bikes a year. Now that trend has subsided and those who have stayed have progressed from folding bikes to mountain bikes and other off-road bikes.
"The infrastructure has a lot to do with it. There are a lot of cycle paths in Hong Kong, but they are cut up into pieces and not interconnected. There are paths in Tin Shui Wai and Yuen Long [in the New Territories]. [The new towns] are right next to each other, but the cycle path doesn't connect them up so … you can't get across the different areas," says Heung, who set up his company because he wanted to get more people cycling to work instead of driving or taking the bus or train.
Chris Szeto, a 30-something teacher at a tutorial centre, says the "bike train" is an environmentally friendly solution to traffic congestion.
"It's not only a green solution, it's also very sociable. When you cycle with a group you are happier, it's fun, and you can see even drivers and people on the streets are smiling at you," says Szeto.
And it's true. A few people shout out jou san [good morning] as we roll up Nathan Road, others take photographs using their phones when we pause at traffic lights, and as we cut through Kwai Chung a driver waves from the cab of an articulated truck to let us cut through. Who knew that Hong Kong drivers could be so friendly? Clearly there's value in being part of a group when you're on two wheels.
I stay on the "bike train" through to the end of the "red line" and then fold up my Brompton and roll it into the station for the journey back to Central by MTR. On the train, I get friendly smiles – all directed at my cute folding bike. This has got to be the most uplifting way of commuting and I feel a lot fitter for it – even if I am a little saddle sore the next morning.
For details and updates see
www.ibikehongkong.com
Transport Hong Kong Lifestyle International