HOCKHUA 30-year anniversary promotion
Want to buy a property? Free shuttle car, no agent fee!
For those individuals considering a change in career, some of Hong Kong's top institutions offer postgraduate-level programmes to make that possible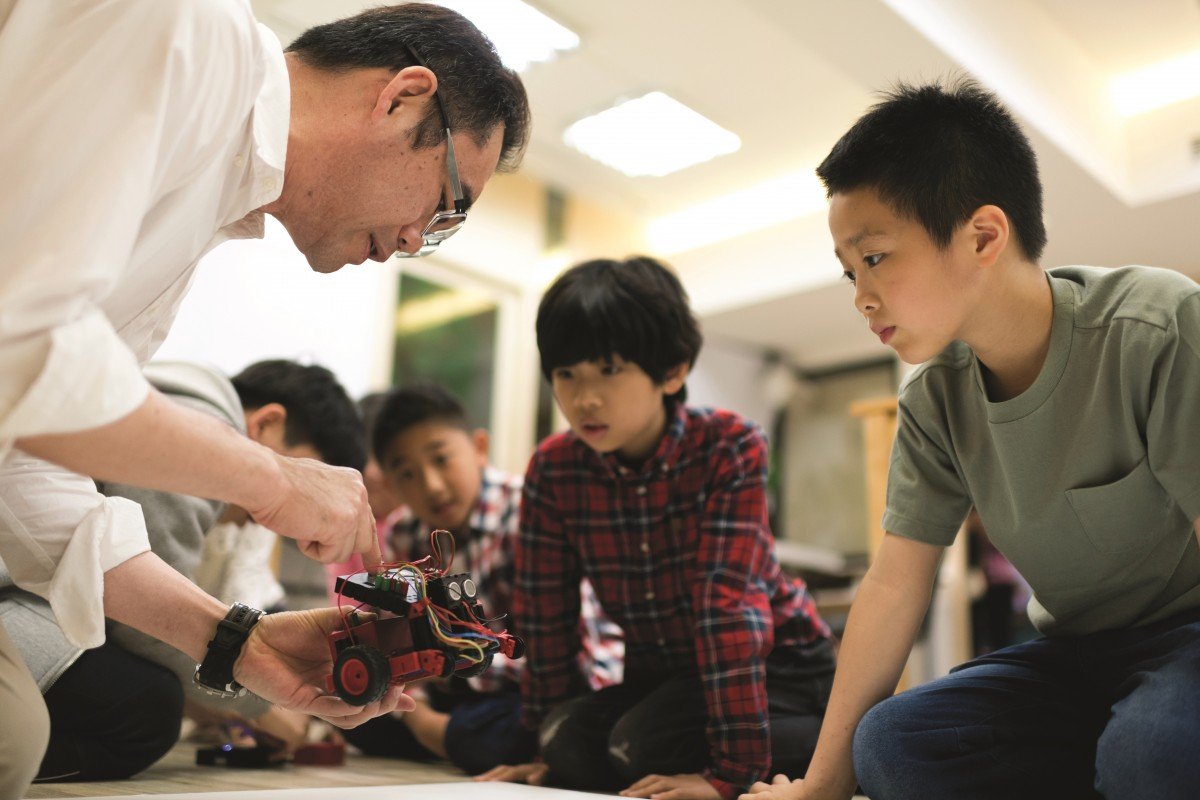 For all kinds of reasons, professionals who have started out on one career track can have a sudden epiphany. Perhaps they come to realise that, despite their best efforts, they are not cut out for the commercial world with its cycle of meetings about sales targets, budgets and the latest restructuring. Or it dawns on them, amid the routines of office life, that they have taken a wrong turn somewhere along the way and that – rather than marketing, finance or engineering – their real talents and interests in fact lie in the field of education.
The good news for such individuals is that, these days, there are plenty of opportunities to change direction. Whether the main reason is a belated vocation, a wish to give something back by sharing skills and knowledge, or simply a desire for further qualifications and a new challenge, there are now numerous postgraduate-level programmes available in Hong Kong which make that possible.
With some, the focus is more on teacher training and the know-how needed to manage classrooms and school-based activities, with many current teachers keen for career advancement also encouraged to apply. In others, the emphasis leans instead towards things like the principles of curriculum design and the latest theories on pedagogy and language acquisition.
Therefore, it makes sense for anyone contemplating a further degree in the field to weigh up the options and be clear what they expect to get for the time and money they intend to invest in the process.
The Education University of Hong Kong (EdUHK) has introduced an MA in STEM (science, technology, engineering and maths) education, which aims to promote a holistic and comprehensive understanding of what it takes to teach those subjects. The programme is available in both one-year full-time and two-year part-time modes. An intake of between 40 and 50 students is expected next year and beyond.
"This is the first master's programme in Hong Kong to focus 100 per cent on STEM education," says Dr Eric Tsang Po-keung, head of the Department of Science and Environmental Studies at EdUHK. "We equip participants with the knowledge and skills to apply technology and engineering design in solving problems and to pass that expertise on to others."
He adds that the various modules look to develop competencies in promoting integrated learning and the ability to design effective course content, instructions and assessment criteria. While doing that, students are expected to improve their leadership skills and learn how to cultivate a spirit of innovation in school-based STEM education.
"The creative use of technology and design is a great way to inspire others," Tsang says. "So the MA programme also deals with models and approaches to enhance self-directed learning and shows students how to synergise subject and cross-subject learning."
This kind of integrated application of knowledge, he notes, is vital for acquiring 21st-century skills and ensuring that the next generation is ready to contend with the changes they will inevitably face.
Advertisement
Core coursework for the MA involves group discussions, case studies, lesson analysis and laboratory experimentation. There are also workshops, research projects, individual essay assignments, presentations, and reports on recent reflections. This mix helps to prompt debate, inquiry and new perspectives, while at the same time developing skills that will be useful in a classroom environment.
"STEM education has become a global trend over the last few years," Tsang says. "Therefore, we will discuss some of these worldwide experiences throughout our courses, and we will give the students opportunities to take part in international forums and seminars held in Hong Kong and overseas."
For this year's first intake, the majority of locally based applicants were in-service teachers, whether in primary or secondary schools. In addition, there was a good number of candidates from mainland China and overseas. The basic requirements for admission include a bachelor's degree or equivalent and, for those coming from a non-English-speaking country, a recognised qualification to confirm proficiency in the language. Shortlisted applicants may also be asked to attend an interview.
Successful candidates may be granted an EdUHK scholarship to the value of HK$10,000. For local schoolteachers taking the programme, the Education Bureau is now offering a HK$80,000 scholarship on a competitive basis
Regarding the balance of future intakes, there is likely to be increased interest from people working as school STEM coordinators, educators from different sectors, and other professionals in tech companies and STEM-related roles.
"We will continue to emphasise the international aspect of STEM education and its relevance for business and our students' overall career development," Tsang says. "That approach also assists students in initiating the transfer of knowledge and experience from other countries to the local school system in Hong Kong."
Another groundbreaking programme on offer at EdUHK is their one-year, full-time MA in visual arts education and creative practice (VAECP). In broad terms, its objective is to prepare students for future careers in visual arts, education in that area and other associated fields. This is done in the context of an expanding and rapidly changing creative arts scene and an ever-evolving educational sector.
"We believe this is a visionary programme, particularly for those aspiring to lead and innovate in the field of visual arts education," says Dr Hung Keung, programme leader. "It draws upon our university's unique combination of academic and professional expertise with an engaging and challenging curriculum. And it provides opportunities of artistic development and the cross-fertilisation of ideas."
The courses generally take a cross-disciplinary approach and foster collaboration and stimulate entrepreneurship. Students are expected to show an interest in historical, cultural, philosophical, aesthetic and educational paradigms, allowing them to explore different career paths.
To this end, the programme combines core courses and electives. The initial focus is on enhancing skills in and understanding of contemporary visual arts practices. But this soon leads on to classes with different disciplines and tertiary-level institutions, as well as projects with professionals in the creative industries and the broader cultural sector.
"We want to give students a deeper understanding of contemporary approaches to learning and teaching creative arts, while enhancing specific media techniques within their chosen area of specialisation," Hung says. "However, they also acquire project management, business and communication skills, so they can continue with research or go on to work as a professional within this broad domain."
To graduate, students must complete four core courses and three electives. Each includes two or three assessments of, say, individual or group projects or presentations. Everything culminates in a personal "capstone" project, which is a chance to show different critical perspectives, research methods and the essential elements of teacher education.
"The goal throughout is to develop professional practices in research and educational theory, which can be applied to visual, media or digital art," Hung says. "But we also let students explore new concepts of creative collaboration in the arts, so they can pick up the skills and attributes needed to succeed in the educational, cultural or creative industries."
"We are keen to see students working closely with museums in Hong Kong and mainland China as part of their courses," Hung says. "And we have plans to set up an alumni community to strengthen links both with and between graduates. This can be a platform for arranging activities and exchanging news through regular meetings, career talks and experience sharing sessions."
Elsewhere, at the University of Hong Kong (HKU), the master of education (MEd) is designed for professionals looking to extend their knowledge and general understanding of the sector or delve deeper into a specialist area. The programme views the principles and practices of education as an important field for academic study and teaches the skills needed to conduct related research and interpret the findings.
Typically, a proportion of graduates are actively involved in school administration, policy development, or adult and vocational training. Others can further their careers in anything from teacher education and curriculum development to classroom teaching, assessment and evaluation, or educational research in Hong Kong and overseas."
"Based on the feedback from students and other stakeholders, we have been improving the MEd to better suit changing needs," says Dr Lo Yuen-yi, programme director. "In recent years, we have strengthened the research component to provide more support for students there. We have also introduced more workshops on academic writing and professional development to enrich the overall learning experience."
The programme has two parallel "strands", with the generalist one leading to an MEd in educational studies. The specialist one lets students choose from among 16 options, which cover key topics like curriculum and pedagogy, STEM education, and gifted education and talent development. There are also general electives plus a course on research methods as a prelude to work on an in-depth project or final dissertations.
"With this structure, students get up-to-date knowledge, as well as skills in educational research," Lo says. "We also foster important attributes like critical thinking, originality and creativity, and ensure that students will be able to communicate about their disciplinary knowledge with professional communities and the general public."
As one of HKU's flagship taught postgraduate programmes, the MEd accepts more than 350 students each year. Both full-time and part-time modes are offered. The former normally takes one year, but can be extended up to a maximum of two consecutive years, with classes generally held on weekday evenings. The latter usually takes two years, but four are allowed if necessary.
Candidates must satisfy both university admission and programme-specific requirements. These include having a bachelor's degree, or equivalent, and proof of a good standard of English. In some cases, it is also necessary to pass a qualifying exam. To graduate, students must complete 60 credits, with each specialist course or elective generally rated as six credits.
For three of the specialisms, namely those in health professions education, teaching of science in an international context, and teaching Chinese as a second language, students are asked to pay slightly more than the standard programme fees.
Lo notes, though, that HKU's Faculty of Education is ranked third in The Times Higher Education World University Rankings, which is widely viewed as a mark of excellence in teaching, research and international outlook.
The faculty has also become the first institution in Hong Kong to collaborate with the International Baccalaureate Organisation to offer IB-recognised MEd specialisms in science, mathematics and Chinese education.
Taking account of teaching staff and students, more than 20 countries are represented within the programme, bringing with them a diversity of outlooks, ideas, and experience of different educational contexts. In this respect, the faculty has teamed up with the Open Societies Foundation to admit students who have obtained civil service leadership awards. These individuals hail from countries such as Egypt, Syria, Tajikistan, Azerbaijan and Ethiopia, adding an extra dimension to the general class profile.
That also reflects one of the key aspects of the university's broader mission: promoting "internationalisation" in curriculum courses and the overall approach to teaching.
"We have students from all walks of life, and they have many opportunities to meet people from different backgrounds and cultures; the MEd is also about broadening horizons and establishing international connections," Lo says. "Our alumni are working in schools, universities, government departments and NGOs in Hong Kong and other parts of the world. They continue to provide support and feedback for the faculty and the programme. Some conduct seminars and professional development workshops for our students, while others assist by offering internship opportunities."
Commentary Education News International