Qdelivery service: affordable, reliable, convenient!
Highest quality moving experience! No hidden charges!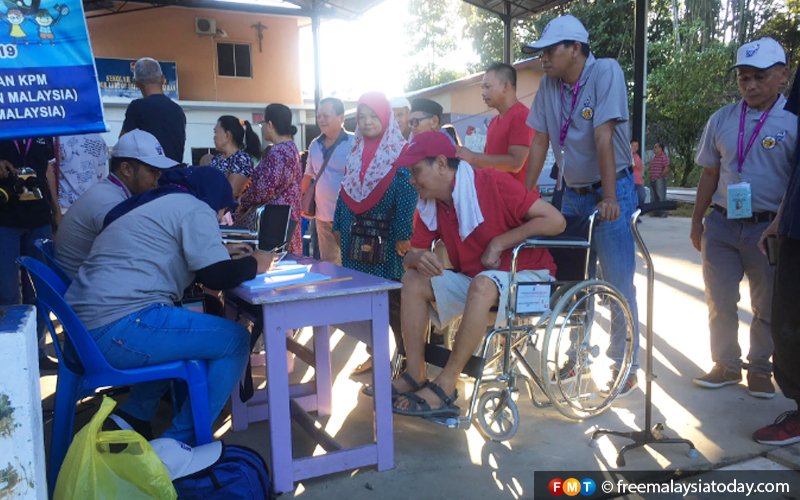 Vincent Matusin (in wheelchair) and other early birds check their voter registration at the polling station at SK Our Lady of Fatima Kelatuan in Kimanis this morning.
KIMANIS: Voting has picked up after a relatively slow start in the Kimanis parliamentary by-election after 19 polling centres involving 68 streams opened at 7.30am today.
Small crowds had started to wait outside the centres – some at schools located in remote areas – as early as 6.40am.
The lines began to grow as more voters joined the queues in bright sunshine later in the morning.
The Election Commission is expecting a 70% voter turnout and has mobilised 650 personnel to ensure a smooth polling process for this by-election – the 10th after the 2018 general election.
Voters wait for their turn to cast their ballots at SK Our Lady of Fatima Kelatuan in Kimanis.
The by-election is a straight fight between Barisan Nasional's Mohamad Alamin and Warisan's Karim Bujang.
Mohamad cast his ballot at SK Our Lady of Fatima Kelatuan at 9.15am, and Karim at SK Kimanis some 15 minutes earlier.
One of the early birds, Juanis Puduk, 72, from Kampung Langkawit in Papar, near here, said he went early to SK Our Lady of Fatima Kelatuan to avoid a crowd like the one at GE14.
The police retiree said he and his wife Malina Mantil skipped breakfast so they could vote early.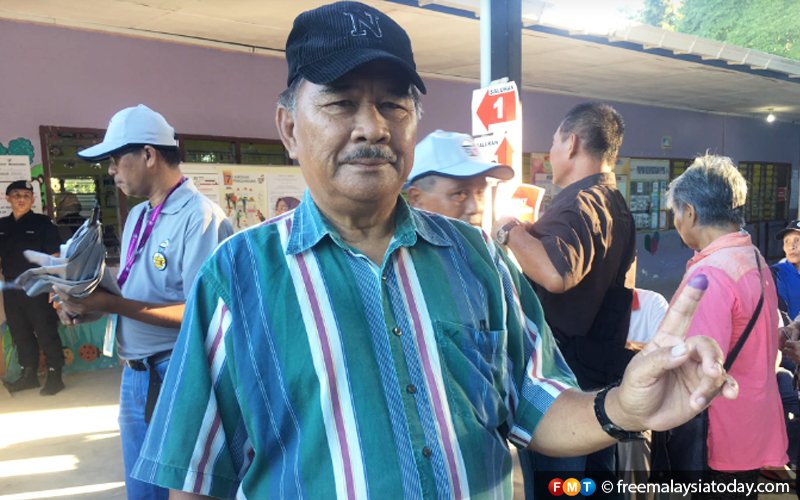 Juanis Puduk was the first to vote at SK Our Lady of Fatima Kelatuan in Kimanis.
"We hope the candidate we voted for will execute his duties well and fight for our area, which needs development," he said.
Stroke survivor Vincent Matusin said his condition had not dampened his spirit to vote in the by-election.
"I will not allow my problem to stop me from exercising my duty," Matusin, who has been wheelchair-bound since suffering a stroke in 2005, said.
Polling will end at 5pm and the result is expected by 10pm. The vote tallying will be carried out at the Dewan Datuk Sri Panglima Mohd Dun Banir at Beaufort, near here.
There are 29,664 registered voters in Kimanis, which encompasses the Bongawan and Membakut state constituencies.
SE Asia Election News International