Want to study for an MBA? First understand these
Awesome promotion deals for foodies!
Vladimir Putin delivered his state of the union speech yesterday where he made several announcements which blindsided Russian politicians. The President announced sweeping constitutional reforms which would prolong his time in office, as he enters his final four years.
Vladimir Putin has called for constitutional changes which would give him new avenues for power after 2024.
The President proposed reforms which would make his successor less powerful, and divert power back to the Russian Parliament and Prime Minister.
The still unclear proposals would be put to the public via referendum.
If they pass, they would allow the Prime Minister to appoint a cabinet rather than the President.
READ MORE
Russia in crisis: Why has PM Dmitry Medvedev quit? What happens next?
In the wake of the announcement, Russia's entire government resigned in full, allowing Mr Putin his pick of new ministers.
According to Russian media, government ministers were blindsided by the decision, announced by the country's Prime Minister, Dmitry Medvedev.
Mr Medevev will also step back, taking a position with the Russian Security Council, also headed by Mr Putin.
Mikhail Mishustin, Russia's tax service chief, will replace the Prime Minister.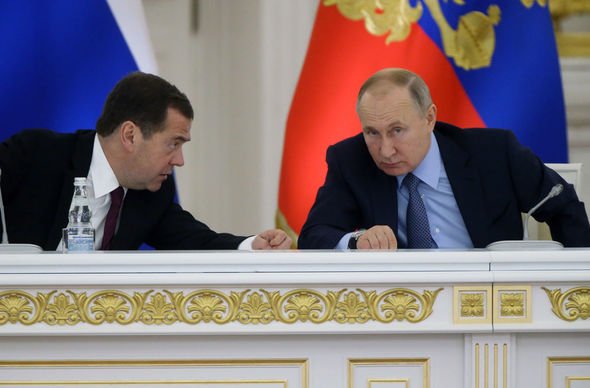 Valeriy Akimenko, a Russia analyst with the Conflict Studies Research Centre, said the latest move is a "stitch-up" collaboration between Putin and Medvedev.
He said: "My personal view is that this is a stitch-up between Putin and Medvedev.
"Medvedev not an independent figure by any stretch of the imagination and made no waves against Putin during his time as president.
"As was the case in 2008, this looks like a mutual agreement between the two."
DON'T MISSRussian government: How long can Putin be president? - EXPLAINERWorld war 3: Putin boasts of Russian weapon no other country has - INSIGHTPutin news: Why Iran chaos could spark Russian economic boom - ANALYSIS
READ MORE
Putin: Russia is world's leader in advanced weaponry
Is Vladimir Putin planning to rule forever?
The prospective changes suggest Mr Putin is planning to keep a hold on power in Russia, transferring back to the Prime Minister role after his Presidential terms are exhausted.
Currently, he is serving his second six-year term as President after he was elected in 2012 and 2018, and he cannot run again due to Russia's constitution, which prevents more than two consecutive terms.
Mr Putin's current presidency is his second, as he also served from 2000 to 2008, and once he exhausted his first two terms he was briefly Prime Minister.
During his time as Prime Minister, the Presidency went to Dmitry Medvedev, who served with reduced powers.
Once Mr Putin picked up the role again in 2012, he came back to a re-empowered position, and Mr Medevev became Prime Minister.
The reformations suggest Mr Putin could be preparing to return to the role, which he is allowed to take after his term is up, but this is yet to be confirmed.
Once he exhausts another term, he can run for President again, and he could continue doing so for the foreseeable future if he so chooses.
The President has another avenue he could take, however, as he would also be able to head the State Council, another powerful body which would receive increased responsibility in the constitutional rework.
Analysts believe whatever position he takes will see him remain Russia's dominant politician for the foreseeable future.
Government Politics Russia News International