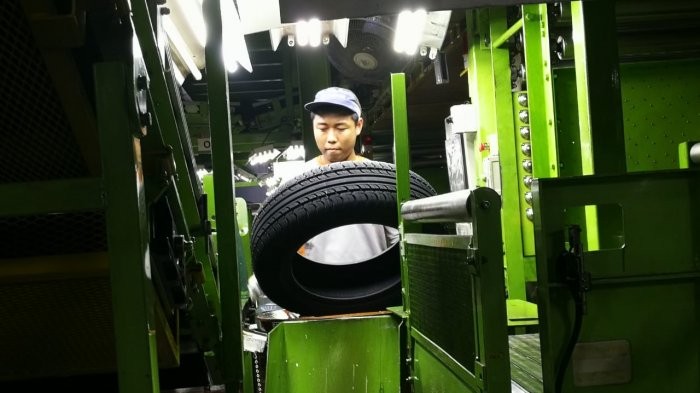 Top tire manufacturers in Indonesia plan to expand their sales networks this year, confident a strengthened economy will lead to improved automotive sales .
Hankook Tire Sales Indonesia, owned by South Korean tire producer Hankook Tire, will expand its retail distribution network and launch new SUV-related products to increase its market share to double-digits in 2020 from 8 percent last year, president director Yonsoo Shin said.
"Last year, Hankook Tire Indonesia was able to attain qualitative increases thanks to the trust and interest of customers. In 2020, we are striving to achieve stable growth," Shin said in a press statement on Tuesday, Jan. 14.
It is not the first time Hankook has looked to boost sales in Indonesia. The company invested US$450 million in the country in July last year to increase its production capacity to 20 million tires annually.
Hankook's expansions could give a much-needed kick to the sluggish manufacturing industry, which has struggled to maintain its 20 percent contribution to GDP, Statistics Indonesia (BPS) data show.
Bank Indonesia's (BI) Prompt Manufacturing Index published on Monday shows that the manufacturing sector's performance remained expansive at 51.5 percent in the fourth quarter last year, compared to 52.04 percent in the previous quarter. A reading of above 50 percent indicates expansion and below that illustrates contraction.
Contradicting BI's reading, the latest Purchasing Managers Index by IHS Markit showed an index of 49.5 in December 2019, making it the sixth month since July last year that the sector has failed to attain an expansive status.
Hankook also noted that tire sales had stagnated last year after domestic auto sales also slumped. Association of Indonesia Automotive Manufacturers (Gaikindo) data showed that wholesales from January to November 2019 totaled 940,362 units, more than 200,000 shy of the 1.15 million units sold throughout 2018.
However, the manufacturer said this had not affected the company, as it relied on its replacement equipment sales to its 25 distributors that handle retail consumers across Indonesia throughout 2019.
It also boasted that income from sales had increased by more than 20 percent last year compared to 2018, indicating increasing enthusiasm toward Hankook products, it wrote in a press release on Tuesday.
Meanwhile, Bridgestone Tire Indonesia, a subsidiary of Japan's Bridgestone, has also expressed similar optimism, predicting 5 to 10 percent growth in overall demand for tires in Indonesia this year. With such an outlook, Bridgestone aims to open 15 to 20 more outlets outside Java from its current 330 outlets.
The company's managing director, Mukiat Sutikno, said easing United States-China trade tensions, an improving domestic economy and new toll roads would bolster the tire sector in 2020.
He said the manufacturer was able to maintain the largest market share in Indonesian last year with 41 percent and expressed confidence it would maintain its position in 2020.
"With decentralization and new toll roads, we see small cities in the outermost regions growing in the future. So, we will focus and augment our outlet growth in these areas," Mukiat said.
However, the tire industry risks slumping this year if auto industry sales remain low, an indication of weak domestic consumption, Institute for Development of Economics and Finance (Indef) Center of Industry, Trade and Investment researcher Ahmad Heri Firdaus warned on Wednesday, Jan. 15.
Finance Minister Sri Mulyani Indrawati previously revised down the government's expectations for 2019 growth to just 5.08 percent as household spending is expected to grow between 4.97 percent and 5 percent, down from the 5.33 percent projected previously. She cited global economic uncertainty as one of the causes, in addition to the domestic economic situation.
If such conditions persist this year, Ahmad urged manufacturers to focus on exporting their tires from manufacturing plants based in Indonesia. However, he expressed hope that auto sales would still grow in 2020 and boost the tire sector.
"I think that the automotive industry will improve in 2020 as long as inflation is controlled and vehicle loan [interest rates] do not increase," Ahmad said.
Business Indonesia Economy