Warranty period up to 90 days! Best electrical services in town!
Want to buy a property? Free shuttle car, no agent fee!
A SHOW TO BE HIGHLY ANTICIPATED WITH A CITY-EXCLUSIVE SETLIST
Taiwanese singer-songwriter Wei Li-an (韦礼安), also known as Wei Bird or William Wei, will mark his long-anticipated return to Singapore with a one-night only concert at the Sands Expo ® & Convention Centre Hall F on 28 March 2020, as part of WEI BIRD "AT THIRTY" WORLD TOUR series. After wrapping up a successful 8-city tour in China, Wei Bird is set to make a stop in Singapore and Kuala Lumpur next, bringing along with him a plethora of classic songs spanning across his 10-year music career.
Celebrating a decade in the music scene, the World Tour signifies the beginning of a new phase for Wei Bird, as the Mandarin-pop singer continues to share his music journey and stories with fans. Titled "AT THIRTY" 《而立》, the theme of the tour follows his newest single of the same name, whose song was self-written and composed by the talented singer himself.
After releasing his first EP "Slowly Wait" 《慢慢等》in 2009 which was an instant hit with fans, Wei Bird subsequently dropped his self-titled debut album "William Wei" 《韦礼安》in the following year, receiving raved reviews from critics and the public alike as he earned himself the title of 'Best New Artist' at the prestigious 22 nd Golden Melody Awards. Over the years, Wei Bird continued to experiment with new vocal styles and showcased his outstanding singing techniques through a wide variety of performances, whose most well-loved hits include "Have or Have Not" 《有没有》,"Because of Love" 《因为爱》, "Still" 《还是会》, "Wolves" 《狼》, "Girl" 《女孩》, and more.
Dedicating a unique setlist for each leg of the tour, Wei Bird's upcoming concert in Singapore promises to be an evening packed full of good music and surprises for the fans, as the singer-songwriter will not only perform a myriad of familiar hits, but also newly re-arranged songs specially prepared by him. For the first time in this World Tour series, there will be limited quantities of VIP PACKAGE for both the Singapore and Kuala Lumpur stops, which will include a Cat 1 ticket, Group Photo opportunity with the star, and an Exclusive Concert Merchandise.
Brought to the fans by IMC Live Global, tickets to WEI BIRD "AT THIRTY" WORLD TOUR in SINGAPORE will be available via Marina Bay Sands and SISTIC ticketing channels, beginning with a one-day pre-sale for IMC Live Global fans* on 16 January (10am to 10pm; SGT), followed by the public sale on 17 January (10am onwards; SGT). With every ticket purchased, fans will receive a free 30-day KKBOX premium membership with compliments from Official Music Partner KKBOX.
*Fans can subscribe to IMC Live Global Newsletter (register via: http://bit.ly/IMCLiveFans) before 16 January to gain access to the pre-sale.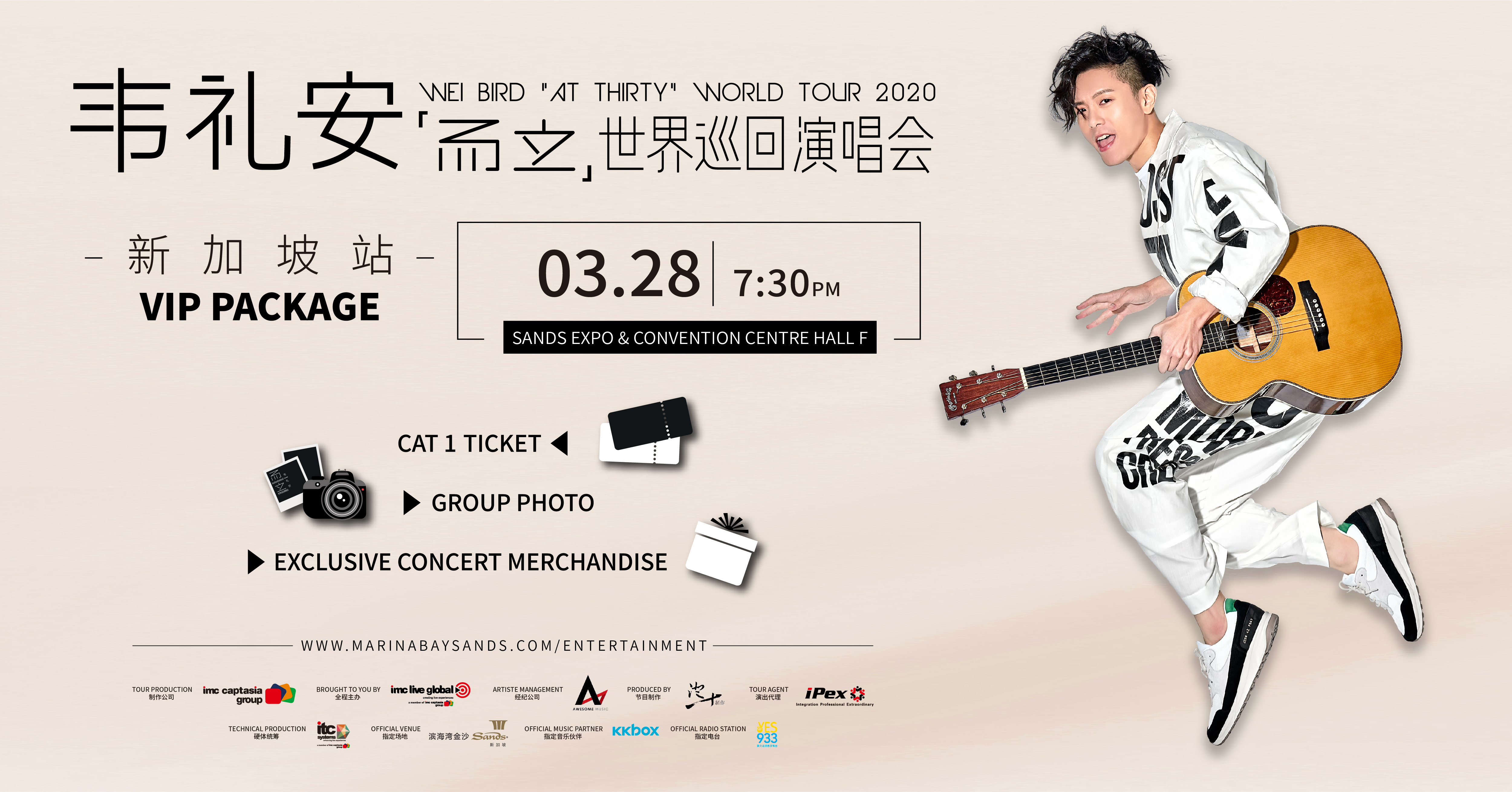 WEI BIRD "AT THIRTY" WORLD TOUR in SINGAPORE
Event Date: Saturday, 28 March 2020
Time: 7:30pm
Venue: Sands Expo ® and Convention Centre Hall F, Level B2 @ Marina Bay Sands
Pre-sale for IMC Live Global Fans: 16 January 2020, 10am to 10pm (SGT)
(Register via: http://bit.ly/IMCLiveFans before 16 January to gain access)
Public Sale: 17 January 2020, 10am onwards (SGT)
Ticketing Channel:
Online: www.marinabaysands.com | www.sistic.com.sg
Hotline: +65 6688 8826 (Marina Bay Sands) | +65 6348 5555 (SISTIC)
Tickets will also be available via Marina Bay Sands Box Office and all SISTIC authorized agents
Ticket Price: S$198 (*VIP PACKAGE), S$158 (CAT 1), S$128 (CAT 2), S$98 (CAT 3), S$68 (CAT 4)
(Ticket prices exclude S$4 booking fee)
For the latest concert information and updates, please visit http://www.facebook.com/IMCLiveGlobal.
#WeiBirdinSingapore #WeiBird #韦礼安 #IMCCaptasiaGroup #IMCLiveGlobal #ITCSystems
Singapore Event Entertainment Music